At post time I will be 6 or so short hours from two days of no work. That is cause to celebrate. How do I celebrate Friday, why answering five random questions provided by the oh-so cute and talented Mama M.? Don't believe me about the cuteness or the talent, well click right
here
. She put herself in a fancy pants vlog (video blog) and SANG. So brave, Mama M. I bow to your greatness and your hot hair.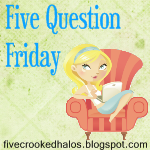 To the questions tangent girl--
Did you pass your driver's test on the first try?
Sure did, but was nervous as all get out. I grew up in the country where there was no need for parallel parking and really no place to practice. I was sure that I would hit the curb and poles representing the cars OR be too far away from the curb. Neither ended up being the case and I
whipped
slowly and painstakingly pulled up reversed my little car right into the spot.
What is your most embarrassing moment?
Most embarassing
evah
??
I'm gonna go with the toot heard round the dining room. (Originally posted
here
.)
What TV show would you like to be on- Oprah, Biggest Loser, or What Not to Wear?
As hard as it is to admit, I'll say the Biggest Loser. I would miss my family like crazy and oh how I would whine, but what a priviledge to be so focused on one goal, the results, and getting to the bottom of the emotions that caused the weight gain. Of course winning the whole thing and the money would be a nice perk too.
Would you ever get plastic surgery and what kind?
This is also a question I have answered at some point. Even if I get on the Biggest Loser and win (which I so would), there are some things that just can't be rescued. Like the overly stretched out skin of my abdomen. Remember with two in there I looked like
this
.
Yes, a tummy tuck.
What are your favorite jeans to wear?
Lane Bryant, because they cover my badonkadonk, there is no such thing as low rise with the aformentioned extra skin. Lanie (we are like that) knows how to make a curvy girl feel good in her jeans.
Soooo how about you? Did you answer and link up? You know you can answer here if you want, but be sure to pop over to
Mama M.'s
and show her some love.