....it's FRRRIDDDAAAYYY!! (oh and old habits die hard)
But today is the start of the weekend the end of a LOOONNNGG work week and a horrid sinus infection and of course Five Question Friday...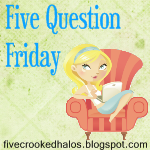 Where is your favorite vacation spot and why?
Vacation...hmmmm let me try to remember what that is like. Since having children we have been on vacation once to Florida. Unfortunately the last few years with little babies has landed us using vacations day to be with sick littles.
I love the beach and clear water. I hope above hope to be able to take our family on a beach vacation this year.
What is your biggest guilty pleasure?
Buttercream covered yumminess.. no wait cake.. cake that I made.
I have a new recipe to share with you later lemon cake, with lemon curd filling and homemade Buttercream.
OH MY WOW.. (Andria are you reading this??)
What is your favorite fashion trend right now? Or, in the past?
I have no earthy clue what is trendy. But I am really partial to my jeans with a little stretch and a comfort waist. Man, that makes me sound old.
What are your spring break plans?
We thought we might rent a car and drive to Atlanta to see family but we need to stay a little closer to home. So we may take the kids to Great Wolf Lodge for a few days and the remainder of the week will be school and work.
B-O-R-I-N-G
What baby names do you hate?
I'm wouldn't say I hate any name. There are some really odd ones out there, but most belong to celebrity babies and I don't really know them. Clearly we are partial to different names, but not naming our kids after objects like Teddy Bear or Baby Doll.
Thanks for stopping by, have a great weekend.
Much Love,
-H