FRIDAY!!!!
And what does Friday mean kids?
Why five question Friday with the lovely, skinny, anniversary celebratin' Mama M.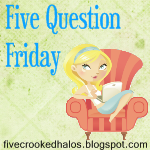 1. How often do you shave your legs in the winter?
Oh! you are still suppose to do that in the winter after your married.
I remember giving my mom such a hard time for not shaving and let me tell you if it's between 15 more minutes of sleep and smooth shaved legs to put in my dress pants and head off to work, well sleep wins my friend.
So, yeah maybe once a week if my husband has been a really good boy ;o)
2. Valentine's Day cards for your spouse: funny or romantic?
We don't do Valentine's Day. I am anti-valentite. I don't appreciate hallmark holidays and would prefer to recieve flowers just because rather than everybody else is doing it. I know it makes me weird. But I like me and I like weird.
3. What are you most looking forward to about spring?
Dade is going to play soccer this spring so I'm excited to see how much he loves it and making friends.
4. What's your favorite way to pamper yourself?
A mani/pedi which hasn't happened since June. If you see me without socks please just turn and walkaway before the callouses begin talking to you. It's bad, real bad, scary bad...
5. Does your tax return go into savings or do you spend it instantly?
Tax Return, you say?!?!? R-E-T-U-R-N I'm not to sure what that is..I owe I owe so it's off to work we go.
Well friend I just slid into Friday and made my link up. This weekend project home makeover continues. I know I haven't told you don't worry we have many more things to talk about. Jon and Dade are headed out in the morning for some Father/Son bonding trip to Toys R' Us to find the fastest BayBlade ever..
Hope you have a fabulous weekend that is relatively snow free.