Have I mentioned how much I love 5 Question Friday? I do think I have. And guess what, yours truly has featured question again this week.

So won't you join me for
Mama M.'s
blog hoptastic Friday??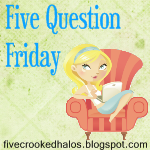 The Qwes-ti-owns--

Are you a Black Friday Shopper?

No, not anymore. Before I was married yes, but not the kind of crazy that gets up and stands in line at 4am just your typical shopper enjoying the deep discounted prices and early bird hours hustle and bustle of the first official day of the holiday shopping season

What was you favorite childhood toy? (think Easy Bake Ove, Cabbage Patch Kid, Shrinky Dinks, etc.)

I did have a Cabbage Patch Preemie and I loved him with all my heart. His name was Avery Alan, but he was not my favorite toy.

This was my favorite-

and the box mine was in looked just like this. I would spend hours in our basement in the dark pushing matching peg colors into letters and making masterpieces. I want my kids to have one, but I'm sure they aren't considered safe these days, you know small pokey pieces and all.

Favorite Christmas Movie?

Like Mama M. I am a big fan of Elf, it's just such a funny movie. Who can't love a character that walks around with his own syrup disepenser. HA!! But my favorite, an acquired taste from my husband,

Deck the harrs with boughs of horry, fa ra ra ra ra, ra ra ra ra.
No, no, not 'ra ra ra ra', 'la la la la'! Try again.
Deck the harrs with boughs of horry, fa ra ra ra ra, ra ra ra ra.
No, no! Sing something else.
Jingre bers, jingre bers, jingre arr the way. Oh what fun it is to ride in a one-horse open sreigh!
Seriously what's not to love?? You know the movie is played on TBS for 24 hours straight on Christmas Eve. I likely watch it two times in it's entirety.

What is the "must have" item on your Christmas list this year? (Mama M. kicked this one up a notch)

Dream List: All of my children to sleep through the night (HA!), A DSLR and lessons on how to use it and take the most amazing pics of my children to decorate my house, the inside of my house decorated (by someone other than me)

Reality: A new camera (point and shoot with some manual overrides, please), a charm necklace with my kiddos names on it

Do you go all out with decorations or do you keep is simple and classy?

We are behind the learning curve on this. The last couple of years we only had a tree. Last year the girls were pretty close to brand new, some friends that love us dearly came over and put a tiny tree on our end table. This year Dade really gets Christmas so we will have a tree and decorate it. We will make cookies and on Christmas Eve we will bake a Birthday Cake for Jesus. So I will answer simple for now with a penchant of going all out as our children get older.

Does anyone have any Christmas traditions they could share with our budding family?

Your turn link up, join in the fun, get the holiday juices bubbling. You say you don't have a blog well leave me a comment or of course give a shout to
Mama M.
the mastermind of todays hop.