I vlogged. I got called on the carpet last week by one
Mama M.
(you can read that
here
) for not vlogging my 5QF. This week I rose to the challenge
nearly passed out
, fiddle with the lighting(to the point of making my husband cranky),figured out all this technology mumbo jumbo, and vlogged(in one take, for realz).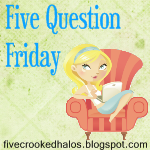 Yes! I did.. Without further ado.. Me in recorded color.
THANK YOU, YOU TUBE FOR STOPPING THERE!!! LOVELY, JUST LOVELY...
So there you have it kids, me. It wasn't too awful was it?
Don't forget to check out Mama M.'s answers and the others that linked up. If you have a blog go ahead and type up a post and join the fun.
It's going to be fabulous weather here this weekend, I can't wait to get the kiddies outside.
Happy Friday Ya'll!