I meant to put this post together last night with pics from our wedding. Well, actually they would be pictures of pictures, since even though we have a tech filled home, we don't have a scanner. I know dark ages right? Geez. That didn't happen though because I was super tired and went to bed. I tried starting several times this morning but was interrupted by my kiddos. Brennan who insisted on putting herself in the time-out chair but hasn't figure yet how to get out. Coralee distracted me with dancing to the swooshing of the dishwasher running. Dade coerced me into tossing the football back and forth, man that kid has an arm!! So, are you wondering why this working mama is home since after all it is Wednesday. There is a blizzard in the great white Mid-Atlantic?!?! It started snowing again last night adding another foot to what we already had and now the winds are whipping up to 30 or 45 miles per hour causing zero visability. Nice, really nice. On to the good stuff, it's Extravaganza time again...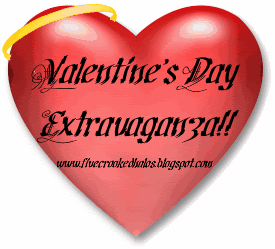 Today I'm suppose to tell you about my favorite moment on my wedding day.
I could tell you about;
-how cute my girlfriend's daughter was in the limo on the way to the wedding location.
-how my dad walked down the aisle and sat down with my mom making everyone laugh, he had
forgotten
something
-how Jon was so emotional when I turned the corner to walk down the aisle that his groomsman thought he was going to pass out.
-how our pastor used letters we had written in counseling as part of our sermony
-how I sang to Jon during our first dance and he cried and asked me why I wasn't crying.
-how Jon and my two new brother-in-laws Clint and Geno did there best Milli Vanilli impersonation to Girl you Know it's True, complete with body-bouncing
-how hysterical it was to back myself into a bathroom stall while my bridesmaid held my dress over my head. Who knew a bride would need to go to the bathroom?
-how awesome it was to have a group shot from the day, of everyone that attended
-how the best man did the turtle during the last song and we all almost fell out laughing.
All those things bring back sweet memories, but the very best was at the end of the day. Snuggled up and falling asleep with my love. Knowing that the next day I would start life over again with him in it.
FINALLY!
Ohhh and I was sporting this on my finger...
NICE!!