Today is Day 3 or our seven day Valentine's Extravaganza with
Mama M.
Today we will be talking about how he popped the question & since I like you all so much pictures of my B-E-A-utiful ring.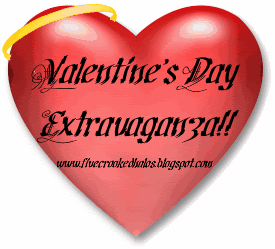 On that fateful night in
December
, we had a heart to heart talk and I told him I'm not interested in a dating relationship, if we are doing this we were doing it all the way and he didn't back down. Then in January we signed a contract to build our first home together. Life was moving forward like we were already engaged, minus the actual question and the picking of the ring. Many times he asked me what I wanted my ring to look like. I only requested white gold and a round diamond. I told him I would give him a better idea when we went ring shopping. We never went ring shopping...
In February of 2005, Jon was scheduled to give his testimony at church. I was sooo nervous for him. My husband is not a public speaker. So I tried to help him put notes together. That Sunday I showed up early for church to pray for him and he had no notes. OH NO!! now I was super nervous. After worship and a baby dedication Jon was called to the front. His mic was giving him problems and so I turned to look at the sound booth and I see my parent and brother walk into the back of the sanctuary.
"Why are my parents here?" From behind me my friend Priscilla's says, "Turn around and listen to Jon."
Time went into slow motion. I heard his words, but the only one's I remember were, "Will you marry me?" I began shaking and crying, I was shocked, I really had no idea. My friend had to push me out of the chair to walk toward the stage. If I'm being honest church was pretty much entirely shot for me that day. I have no idea what the message was because I was staring at my ring and my future husband the whole time.
This is what he picked out all my himself....
Please please please tell me your engagement story. I love to hear (ahem read) about the special moment. Don't forget to link up with
Mama M.
or if you don't have a blog you can leave your story in the comments.