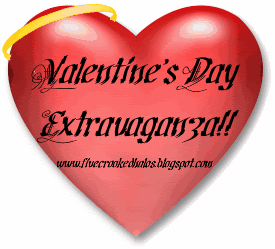 It's Extravaganza time...
Today we are talking about my favorite date story.
So, first since I left you hanging yesterday let's talk about when the hubs
FINALLY
realized that I was indeed the one. He told me this story again this morning in the car on the way to work, it just makes me all kinds of giddy.
In early November of 2004 I cashed in a vacation that my boss had promised me, as in paid for, to the Domnican Republic. The day before I left I went to the salon and got my hair done and eye brows waxed, at the time Jon was feeling under the weather. So being the great friend
over the top desparately in love with him
that I was, I brought him a box of Nilla wafers (his favorite cookie). Before I arrived he had been talking to God, desparately trying to figure out the path for his life, wondering why he was still unmarried 6 years after he felt he was supposed to leave the Marines.
He says, "When I opened the door, I don't know how to explain it, you looked amazing and different than you ever had before. My heart skipped a beat. It was like, hey how youuu doing? (think Joey from Friends). Then you gave me the cookies and said, "Ok, see you in a week." and left."
"I thought about you the whole week you were gone and missed you. I thought of reasons to go to your house and do stuff for you."
Then I came home and you know what, he said nothing. We went on business as usual, we were friends, nothing more nothing less. As December rolled around I decided that I was doing myself a huge disservice to continue waiting for him. What if I was missing "the one" meant for me, because mistakenly I thought it was him? So, on December 4th, 2004 I called him and told him we needed to talk. I told him I wanted to talk face-to-face, but he couldn't wait to schedule something at a neutral location so he asked to talk over the phone. I started telling him how I felt and that I knew that he knew but that he didn't feel the same. I started to cry because it was like I was ripping my own heart out of my chest, when he interrupted me and said, "I love you." My response, "WHAT??" At that point I couldn't talk to him over the phone anymore and he came over to my house. The rest as they say is history...
All that to say our very best date and one of the few before we were married was his birthday dinner the very next week at the Cheesecake Factory where we celebrated as a
couple
with all of our dear friends.
FINALLY!!