It's Friday and since you know I'm a bandwagon type gal I hopped on the Friday Follow hop. If you are stopping by from Friday Follow, peek around, look under the hood, and thanks for stopping by.
Then of course what would Friday be without a little 5QF. Since I already feel like I was kicked in the teeth this morning I was so happy to answer these questions and put a smile on my now toothless face.
Don't forget to stop by

Mama M.'s

and peep at her answers too.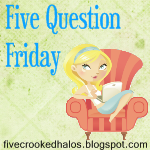 Do you sing karaoke? If so, what is your go to song?
Ohhh no and trust me you are grateful that I don't. I mean I am a great singer and all in my head, in the shower and in my car but I wouldn't want to show anyone up and a record deal just won't fit in my schedule right now.



What is your favorite coffee drink?




I like coffee a lot, like a whole whole lot. For my morning cup 'o joe I buy what is on sale but I'm not a folger's gal. Now if I splurge and go to the Starbucks or Caribou it must come with caramel, extra caramel please.





If you could choose your own name, what would it be?




I'm actually good with my name. When I was younger I hated it because it was so different I would have given anything to be Kelly, Melissa or Jessica, but now I like it for that very reason. I just don't run into that many Heidi's, maybe if I lived in Germany





Were you ever bullied?




Yes, I have a post about this in my drafts. Middles school was awful for me and many things that happened in those years affect me even to this day.





How often do you eat fast food?




Once maybe twice a week, I hate to admit that, usually it's because things were extra crazy in the morning and we didn't get lunch packed.



So, come on you know you want to.. Pick a question or five and tell me your answers or do your very own blog post and link up to

Mama M.