Well, hellllloooo 2010!!

Did you know it's Friday? Did you know that
Mama M.
was still going to do 5QF? Well, I sure didn't. I haven't been on the computer most of the day, ok well maybe a little facebook, but no blog reading. I've been un-decorating, re-orgainizing and purging, it feels wonderful. So, I pop into my reader tonight and find out
everyone
else knew this was going to happen. While it's still Friday I am rushing to answer the questions.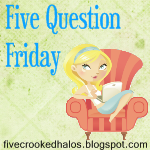 Remember how the bloggity hop work, new year does not mean new rules, K?
Mama M.
posts the questions I (or you) answer and link up on her blog. If you don't have a blog you can leave your answers here or over at
Mama M.'s
place. Then visit the others and leave comments.
1. If you could bring one character to life from your favorite book, who would it be?
Ummm, hmmm stumped already. I love love love to read, but don't retain much once the cover of the book is closed, the same could be said for movies I watch. So, I don't have a favorite book.
2. Where did you get your very first kiss?
Oy, this is only question two, right?? The first one I remember I was like 14 and this boy I didn't really care for but was
seeing
(read holding hands with) kissed me in front of my house on a snowy night. I told him that kissing him was like kissing my father, the hand holding ceased immediately.
3. How did you welcome in the New Year?
The whole family went to a local Mexican restaurant for dinner as for the actual New Year as in midnight, we were all asleep. Yeah it's like that!! Because two hours later we are awake with one baby and the other woke two hours after that, then Dade was inches away from my face at 7am as I was startled awake.
4. What is your favorite Beatles song?
Their music is good, but I don't have a favorite.
5. Donuts: Overrated, underrated, or 'bout right?
Overrated for sure. Now don't get me wrong, I'll eat a donut and prefer cake. My pastry of choice is a muffin, cranberry orange from Starbucks if you wanted to know, they are the bomb diggity.
Man I really feel like my answers are stinkin' it up on 5QF this week. Please do not let this be a foresahdowing of what is to come in this New Year.
Ok, now go hit up
Mama M.
and please promise to come back next week. Please, Puuuhhhh-leeeze..