Well good gracious
Mama M.
went and got the question out early this morning just messing me all kinds of up and rearranging my OCD organization of posts. It only took fur-evah for me to answer because I have to work, geesh!! So now 5QF is 2 of 3 and my fragments
if they ever make it out of the tips of my fingers
are 3 of 3. You follow?
Anywho…The five questions this week are sticking with ye ole Christmas theme.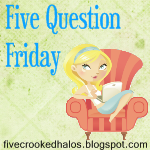 If you don't have a blog and want to play along you can leave your answers in the comments, but please be sure to throw some bloggy love
Mama M.'s
way too. Oh! And same goes for
Tamara
and filling in the blank. In my haste to get 1 of 3 posted I forgot to mention LOVE, nothing but love.
Does Santa wrap the presents he leaves at your house?
In keeping with a tradition set forth by my own Mama, Santa will wrap presents and each kiddo will have their own wrapping paper color and design. This tradition is SOO pleasing to my OCD you have
NOOOO,
idea.
When is you "big" Christmas celebration…Christmas Eve or Christmas Day? Tell us about it…
I think I mentioned this in a previous 5QF. We do our family of 5 plus my mom and dad and maybe my popo brother on the 25
th
. There is no traveling. Right now it is low key but as my wee ones grow older I'm sure it will be an early morning of paper flying and then at some point me taking a nap.
So our big family get together (in MD) with my side of the family will be on the 26
th
. It's scheduled around everyones availability and of course Ravens games.
Are you big on keeping tradition every year?
We are still up and coming in the tradition area. There are a few new ones I'm looking forward too now that Dade is old enough to grasp Christmas. He is all about singing carols, his advent calendar, making ornaments, and talking about baby Jesus.
I LOOOOVEEE IT.
So we will keep what works this year and maybe start some new traditions next year til we have our fill and find what fits.
Do colored light or white lights tickle your fancy?
For me, I'm all about the white lights they are classy, clean and crisp. I having a feeling in the next few years three little people will override me and for their enjoyment I will cave to colored lights, maybe even blinking colored lights.
Do you decorate outside your house for Christmas?
Until this year no, except for a fresh wreath on the front door, but Dade got so excited to see the neighbors blue and yellow (they are really white) lights one night when we were having dinner that I told Jon we probably need to do some lights outside for our boy. I love outdoor lights so long as I don't have to put them out there and clean them back up.
Ok, so
Mama M.
promised to "lurve me fo'evah" if I sent you over to her bitty spot on the Worldwide web, so click
here
, k? Cuz one can never have too much lurve…