Who doesn't love the truth? I'm participating in
Elizabeth's
Truthful Tuesday for the first time, maybe it will become a weekly habit.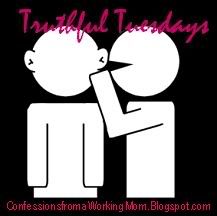 This week's question - What is your spouse's most annoying habit?
I actually asked him what he thought it was. (You know we work at the same company and have lunch everyday, right?) So I asked him and HE listed a few that do truly annoy me, but the bonus in all that is he knows and still does it.
First up SNIFFING. I believe tissues can be added to the list of allergies my husband suffers from. He sniffs all the time. He was sniffing while we were eating lunch today. He sniffs in the car
ALL
the way to and home from work. I'm not talking
sniff sniff
here I'm talking
BIG MANLY SNIFFING
, think the noise that comes before the lugee. Yeah
THAT
bad.
Next up, and not quite as annoying to me Benadryl
or Zyrtec
wrappers everywhere and anywhere. The pill has been consumed and the wrapper thrown haphazardly wherever.
Wow that felt good to get off my chest.
To my husband, who does read my blog, the world needed to know. I LOVE YOU!!!
Your turn, and if you don't have a blog comment here or over
here
.