there is no way I'm missing 5QF. I had a Thanksgiving post in my head but ran out of minutes to crack open the laptop and type it our before we had to leave for our family gathering yesterday. As it was we were a smidgen late, but thankfully my family was forgiving.
No work for me today and the little ones are currently
confined
eating lunch. So I need to move quickly before the bar-b-que chicken quesadillas are gone.
You know the drill.. the questions picked my
Mama M.
provided by
Adrienne
and
Tyler
.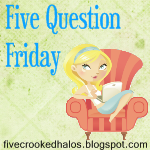 Now I provide my answers..
Do you do a real or fake Christmas tree?
Right now real, but I would really love a time saving pre-lit fake tree. Maybe it will be a post holiday purchase when we can hopefullt get a deep discount.
What is your favorite Christmas tradition with your family?
I love that Jon and I made the decision for our family that we will not travel on Christmas Day. I look forward to the days of the kids waking up discovering their new presents and being able to spend the day playing and discovering these new things, eating and resting; rather than being rushed to get ready and leave the house on the Christmas Tour.
Do you celebrate Thanksgiving in your neck of the woods? And, if so...how many calories do you think you consumed yesterday?
We most certainly do. Contrary to the question above it is our traveling holiday. This year we should have been in Atlanta with Jon's family, but his mom is in Paraguay and funds are tight. Thou I'm a little bummed because we might have been able to meet this
family
. (Frankly, I would have been
beside
myself.)
Hmmm calories, honestly no idea. Alot; a WHOLE lot, but I did only have one heaping plate of food and one dessert plate, that is some restraint, right??
Oh geez! Need to hurry the girls are sharing their lunch with their ponytails...
Have you started decorating for Christmas, yet?
Nope, not til next weekend. As I mentioned
here
it MUST be December before decorating begins. And, Papa is not home today. He is at work working on computer/network mumbo jumbo.
What is your favorite Christmas cookie? **
I have to pick just
one.
Really, hmmmm... I can't do it. It's a tie between ooooeey gooeey chocolate chip cookies and sugar cookie, both must be homemade of course.
**- I had plenty of time to contemplate this answer between the time I started answering and finished I cleaned up two babes who were done consuming lunch, the kitchen floor that was also done eating lunch and wiped the butt of my potty training(ed) 3 year old.
I would also like to add an edit from
last weeks questions
. I'm adding to my wish list one of these..
Because seriously, my floor gets wrecked
EVERY SINGLE
time the girls eat.
Ok, your turn, you know you want to, do you have a different favorite cookie that the world
must
know about? Share it here in my comments and PLEASE PLEASE PLEASE share the recipe or you can leave the lovely
Mama M
. a shout out. Happy Shopping if you are into the that kind of craziness!!