Yet, another week has slipped through my hands and I posted NOTHING new. I apologize, I have all kinds of excuses, but alas they are just excuses. I'll try to be better next week.
Today though, TODAY is 5 Question Friday AND one of MY questions got picked. I feel like a celebrity. Where is my paparazzi??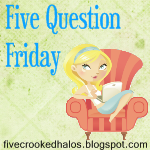 Ok, focus, back to the 5 questions brought to you courtesy of
Mama M.
and me
1. What were you doing the last time you had a really good laugh?
Jon and I were in the car headed home from work.
He has actively been trying to find a lawn care/landscaping company to take care of the lawn for our rental property because the last tenants left the lawn an overgrown wreck and the power is currently turned off there, so our electric lawn mower wouldn't work. Also note the last time he used the mower a piece broke off and he is also having a difficult time getting Black & Decker to respond to him and send the replacement part. He suggested that he should open a lawn care business on the side, in all his spare time, to take care of people in our situation. Then I said, "You would be out there with your electric lawn mower trying to hold the broken part in and mow."
We both began laughing hysterically. I chuckled even typing this. However; I'm sure it seems pretty lame if you weren't there.
2. Who was your first celebrity crush?
If you are family you
know
this, if you read this blog for awhile you have an inclination.
Seriously at 12 what was there not to LOVE about this cool drink of water. And how funny is it that I married someone that is tall dark and handsome? I've been true to form since middle school.
Oh and Mama M., I most certainly did check out the
reunion concert
. Let me tell you they still got it, you know the Right Stuff.
3. What is the one talent you wish you had?
I would really love to speak Spanish fluently so the kids could be bi-lingual and be able to speak to their paternal grandparents, but I'm not so sure that is a talent, oh well that is my answer.
4. How often do you and your spouse go out w/o the kids? Is it frequent enough?
No we do not go out enough that is for sure. The first time we have been out since the girls were born was on our anniversary in September and I loved every last minute of it. That is totally lame I know. It's hard to find a baby-sitter who can handle two babies, scheduling time for our friends to watch them is tough too. Now that they are all older and easier to manage I think we will be going out more.
AHEM!!
Right, Love??
5. What colour is your bedroom?
Same color as the rest of my house, boring old construction grade white. I have a fear of commitment to paint. I love love love color, but am always afraid I won't like it after a little while and want to change it.
On top of that we need new bedroom furniture. Currently we are using the dressers and nightstands from the set I bought when I was 24 and moved out of my parents house. It's real wood from Value City Furniture. We have to pray that the drawers will open and close..