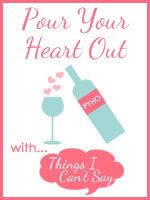 Today I am linking up with Shell and pouring my heart out to share some of how I have been feeling recently.
It's almost two years since we walked out of the house, closed and locked the door. I was VERY pregnant with the girls and felt no emotion to the huge change that we were making in our lives. After all we were only renting the house out, there was a chance that we could move back one day. I couldn't bring myself to believe that we would never be back. Never park in the garage, cook in the kitchen, hang my clothes in my closet.
In September of 2005, just three day before we got married Jon and I went to settlement on our first home together; a beautiful, newly constructed home that we had picked out and tailored just for us. We saw this as a huge blessing, never knowing given the state of the market if we would be able to afford a single family home and it was all ours. I moved in thinking this was our forever home. God willing we would fill it with babies, finish the basement, put in a pool and just be.
Then life happened Jon had been laid off twice for several months each time, we were now expecting twins and we needed to cut costs. In September of 2008 we moved out, just three years after buying our forever home.
I am so very grateful that we have a place to live, but so much is not here. We are five people in a much smaller home. There is no more gourmet kitchen, sunken family room, his and hers closets. That was the house where we started life together, filled it with new furniture, shared our first Christmas, celebrated birthdays, brought our first baby home to, it was meant to be forever. Now, it's not ours anymore. I know it's just a building just four walls in my head, but my heart is so very sad at the death of a dream, of a life only imagined in a much different place.
Have you ever experienced the mourning of a lost dream?