Arizona Mamma
is on vacay this week from her little hippity hop, but some other regular attendees have post up today so I though I would sneak my in right under the When-sDaze wire.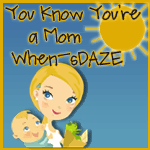 You know your a Mama when your oldest refuses to take a bath after witnessing his little sister relieving herself in the bathtub and you agree that a shower really is probably the better option.
You know you are a Mama when you successfully bath 2 children and shower one child at the same time.
You know you are a Mama when you can recite all the words to If You Give a Mouse a Cookie, If You Give a Moose a Muffin and If You Give a Pig a Pancake by heart.
You have an agreement with your son that he can only bring one blanket and one animal downstairs for the day.
You know all the names to all the animals and blankets that sleep with your children.
Rather than fight you allow your child to sleep with a soccer ball, helium balloon or plastic bat from the dollar store.
The logistics of washing a stinky well loved lovey is comparable to an act of Congress or a game of Risk.
What is reminding you of your Momminess today?