I found a new meme, well actually
Shell
found it and I found it from her, but isn't that how a meme gets started.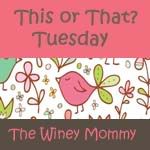 Chelle
the Winey Mom wants to know-
Do you buy your makeup at a discount/drugstore or some type of specialty makeup store?
I am a make-up snob. It started when I was still single and could blow money on frivolous things. I was regularly receiving micro derm abrasion treatments and using a retinol product through a service offered at the salon I frequented. They also sold Bare Minerals and so I was hooked. For the longest time I thought I could only get this make-up at my salon. Then a co-worker who had a part-time job told me about Ulta. That's where I started to go. Even though we have made many cutbacks I still use Bare Minerals because I like the look and I like how it feels on my skin. The last time I needed make-up I went to Sephora, because it was right next to Stride Rite and the kids needed shoes.
SOO all that to say I do indeed shop for my make-up at a specialty store, well except for my mascara that comes from Target and is usually purchased with a coupon. I know my limits..
Go check out
Chelle's
site to see what others have said.