On Wednesdays,
Shell
at Things I Can't Say hosts Pour Your Heart Out. There is no real theme just the bearing of ones souls and heart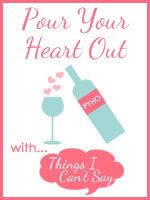 So there is a disclaimer-
I hate that I even have to say this, but, whether you are participating or just reading, please keep in mind that the people linking really are sharing something from the heart. So, please, BE RESPECTFUL. We might not agree with each other, but we can all accept someone's right to have a different opinion than we do and NOT attack someone because of this. Play nice. :)
My faith is a huge part of who I am; however I do not frequently blog about it. Why? Because I make mistakes, I curse and I judge. I live in my own glass house and don't want to supply my own faults that would induce stone throwing. I'm not perfect and I'm just not confident enough to "preach" to the masses. This is my story though, my testimony, my witness, my mercies are new every morning.
On Friday nights we host a church small group in our house. This past Friday our pastor posed the question, "What does Easter mean to you?"
When I was growing up we went to church every Sunday. I remember Easter lessons replete with Easter bunnies and egg hunts. Occasionally, a play or puppet show with the actual stone being rolled from the tomb appears as a glance in my memory. It wasn't until I was 29 years old and holding my 7 month old baby that I really "got it". God looked at the innocent face of his baby and knew that in 33 short years he would willingly face an unjust trial, incomprehensible beatings, undeserved judgment, and ultimately death.
I looked at my son and thought, "How?" It is beyond the limits of my finite mind to think I could or would allow such things to happen to my baby. Mary, Jesus' Mama stood and watched him die. Did she understand the fullness of his mission? How was she not a distruaght mess? How does God love broken sinful me that much?
I pray that I can show my children, family, friends and strangers that kind of love.
I pray that I can impart just a sliver of the amazing sacrifice made for my children.
The story doesn't end with death however it ends with a celebration even death could not hold my Savior. Glory Be!!
Christ is Risen, Risen indeed and living in ME!!