It's Friday the end of the work week..AHHH!! and someone 'round these parts has been getting some uninterrupted shut eye. It's just amazing what that can do for a girl.
It's 5QF and
Mama M.
has taken to previewing the questions on Thursday so that is when I typed my answers up, while I watched Jim and Pam have their baby.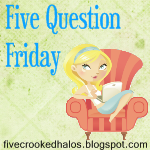 What's your guilty pleasure?
Well are we talking food here, tv, pampering type stuff?? I'll answer all of them
Guilty Pleasure TV- Pretty much anything on the Bravo Channel, primarily the
Real
Housewives series
Guilty Pleasure Food- Caramel Milkshakes extra thick from Brewster's
Guilty Pleasure Pampering- Pedicure, speaking of I might need to indulge soon. I think I cut my leg with my heel earlier getting my pj's on, winter is ohh so cruel to the tootsies.
What is your favorite TV series?
I'll admit it I'm a big fan of Survivor and The Amazing Race, we don't miss an episode.
We also don't miss an episode of LOST, my husband got me sucked in, as much as a I tried to resist I am now trying to figure out this blasted show.
Lastly, would be Modern Family, the show is so funny that I have likely pee'd my pants (just a little) at least once during each episode.
It just dawned on me this question migh be asking favorite TV series of all time well that's easy for me to answer- Seinfeld. We own every season on DVD, we watch it on TBS and Fox every evening when we come home. Yeah definitely Seinfeld, classic.
Can you speak any foreign languages?
Funny thing about that..No.
It bums me out to no end. Between middle school and high school I had 5 years of Spanish you would think I would know how to say more than, "One more beer please" and "Where is the bathroom?"
I understand
some
more than the average person. Considering my husband is from Paraguay I would really like to know more so our kids are bi-lingual, but he makes fun of me when I try to speak because I sound like a white girl. Um hello!! (points finger at self) I'm white. As for the kids well they laugh at the hubs when he speaks to them in Spanish. We are all about embracing culture.
How many pairs of shoes do you own?
Hang on need to run to my closet...
Oh! Drat... I forgot there are some in the shoe basket in the laundry room.
Does each pair of flip flops count??
28- Wow! that's not bad.. There was a time in my life before hubs and kids when I had a shopping problem, specifically shoes and had over 70 pairs of shoes..My reform is going well.
What's your favorite kind of M & M...peanut, almond, straight up regular, etc.?
Two Words - PEANUT BUTTER
Ok, now it's your turn.. Answer the questions and link up with
Mama M.
if you do that let me know so I can read your answers. Now if you already have a post for today, or you don't have a blog you can answer in the comments right here, because, well I love comments almost as much as peanut butter M & M's.