Mama M.
of 5QF fame has set forth the
love
challenge for the week leading up to Valentine's day. Each day this week has a theme, you can read more about it
here
.
Look at this super snazzy button that
Mama M.
created herself. I'm pretty impressed.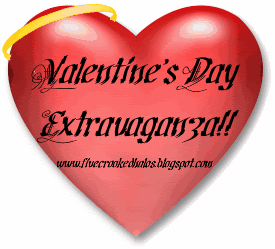 So today's extravaganza theme is to tell how you met your love.
My love and I first met in 1997.
I was in the travel business and worked at a call center I met my dear friend "A" over the phone and on Valentine's weekend in 1997, I ventured to Virginia for the first time to meet her and go on a blind date. The blind date however was not with my husand, no my husband was there, but he was the baby-sitter. From that very day he caught my eye. Not too long after that and a few more visits to Virginia I started having dreams that I would marry him. As I came to visit my friend month after month before finally moving to VA, I was more and more taken by the person Jon is and was smitten. I tried and tried and tried and tried to have more than a friendship for a long lon time, but he wasn't having any parts of it. We did over the year develop a very close friendship, but I always wanted more. I was in love with him. It wasn't until one fateful night in December of 2004 when I was fixin' to give him he friendship walking papaers, when he finally
FINALLY
realized he felt the same way.
I can't go into more details on our story yet, stay tuned for the rest of
Valentine's Day Extravaganza
throughout the week.
So how did you and your love meet?? Go ahead blog about it, tell the world, then link up to
Mama M.'s
so everybody else can read too. Haven't yet met the love of your life, well tell us all how you met your bestie (as in best friend)? And as always if you don't have a blog, well then seriously you need to leave me a comment about how you met.
Oh and in case you want to join the Extravaganza, tomorrow's theme is favorite date story (good or bad)...
P.S. - I love the word
Extravaganza!!