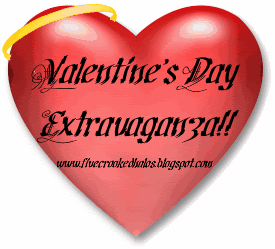 It's Valentine's Day, the waning hours of the day to be exact and the end of the Extravaganza. I want to again thank
Mama M.
for hosting this little party, while I'm not a fan of hallmark holidays it was a nice excuse to remember how it all started and remember those feelings.
Today is the David Letterman version of V-Day Extravaganza.
Top Ten Thing I Love about My Love
10. He is a pretty awesome Dad to our three littles
9. That he will buy me my favorite flower even though he is allergic and will allow me to bring them home even if he can't breathe the entire time they are here.
8. Most definitely the
coffee thing
.
7. His ability to make me laugh even when I am angry, tired, or sad
6. That he can't keep his hands off of me.
5. That he loves to play video games as much as I do.
4. That he proudly wears the the wedding band that I had engraved with
FINALLY!! 9-24-05
3. That he always calls me "His Beautiful Wife"
2. His smile
1. That he gets me through and through, including the ability to read me (ok maybe sometimes that's annoying too..)