I'm fighting hard to get out of this blogging funk. I love blogging and I miss it, but I'm just in a general funk with life right now. More on that some other day, today is the day of five random questions with
Mama M.'s
Five Question Friday.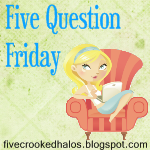 Do you have any nicknames and if so how did it come about?
Heid- because sometimes that extra "i" is just too much to say
He-Dee- that is what my cousin has called me for years
Sweetie- what my husband usually calls daily
H Dubs, Mrs. Dubs or something including Dubs or Dub-Ya- Our last name begins with a W and is very difficult to pronounce so it gets shortened to Dubs
What is your birth order amongst your siblings?
I am the oldest of 2, my brother is 5 years younger than me.
In a movie of your life, who would play your significant other?
Oh the options....
Tall, dark and handsome for sure...
Some options Tim McGraw (have I mentioned him before?), John Krasinski, Harry Connick, Jr.
Ok, Harry is my final answer..
What is currently your favorite song?
I can't pick just one. I love music, specifically country music.
If I'm feeling a little salty or fired up it's definitely "Pray for You" by Jaron and The Long Road to Love
Let's go ahead and add Jaron to the list in question 3.
If I'm feeling contented and ready to jam out, "Southern Voice" by Tim (like he and I are on a first name basis)
Feeling chill and ready for the weekend, "Toes" by Zac Brown Band. Not that I have seen the sand this summer but the song is great.
Are you saving your money for anything right now? Big or small purchase?
Yes for something fun and exciting..
you ready?
Blinds for my house, don't be jealous..
I told you was exciting, but I didn't mean for you to fall on the floor in amazement.
Go ahead pick yourself on up.
Happy Friday Ya'll...
If you are feeling spunky answer the questions and link up with
Mama M.