It's Friday!! WOOT-WOOT, I'm gonna knock off work around five and take the next two days off, hope they don't mind.
Big BRR BRRRR here, I saw all the encouragement and suggestions on twitter last night for vlogs today and didn't get my act together enough to do one. Hey, at least I'm returning from my brief 5QF hiatus.
You know the drill answer the questions and link up with
Mama M.
at My Little Life.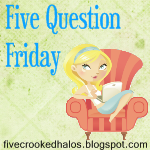 1. Do you know how to play a musical instrument?
Currently I can play a mean Twinkle, Twinkle on the xylophone.
Back in elementary school I played the clarinet, though I was never really good.
During our 5th grade assembly I faked it and didn't even blow in the instrument.
2. What is your pet peeve while driving?
They aren't an option that you have to pay for, they come on every car.
USE THEM!! & when you are down turning SHUT THEM OFF!!
Not that I'm really bothered by that or anything...
3. Would you rather have a housekeeper or unlimited spa services?
Hello, housekeeper, no more kitchen duty, no more laundry to put away.
HELLLLLOOOOOO housekeeper.
4. Is there a song that you hear that will take you back to the moment, like a junior high or high school dance?
It was the song I shared with my high school boyfriend and the only song I remember dancing to at my senior prom.
5. What song best represents your life right now?
Ain't as Good as I Once Was – Toby Keith
Free – Zac Brown Band ('cuz all we need is love)
Have a great weekend Ya'll