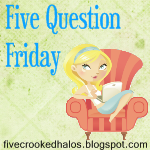 I know what is Friday without 5QF, I nearly missed it. It's short and sweet because I'm feeling pretty tired. I meant to mention the girls both have sinus infections and Brennan also has a pretty nasty ear infection. Both were given a Z-pac, but Brennan still had a fever around 102 this afternoon. Thank you all for the prayers for my babes.
FOR REALZ!!! I made that face for less than a second..
Please remember to hop over to
Mama M.'s
place and check out some of the other lovelies that linked up as well.